BESPOKE DESIGN DEVELOPMENT
TRADE WITH POODLE AND BLONDE
Become a trade account holder with Poodle & Blonde. We are proud to work with a variety of design professionals across interiors, architecture and hospitality. Our luxury collection of fabric and wallpaper has been hand designed with a retro twist.
Whether you work on residential or commercial projects, by joining us, you will be able to showcase an array of original and vintage inspired designs to your clients.
Our expert team is always on hand to answer any questions. For more information about our trade service, please email trade@poodleandblonde.com.
Sign up to our trade newsletter to be the first to hear about new retro prints, offers and events.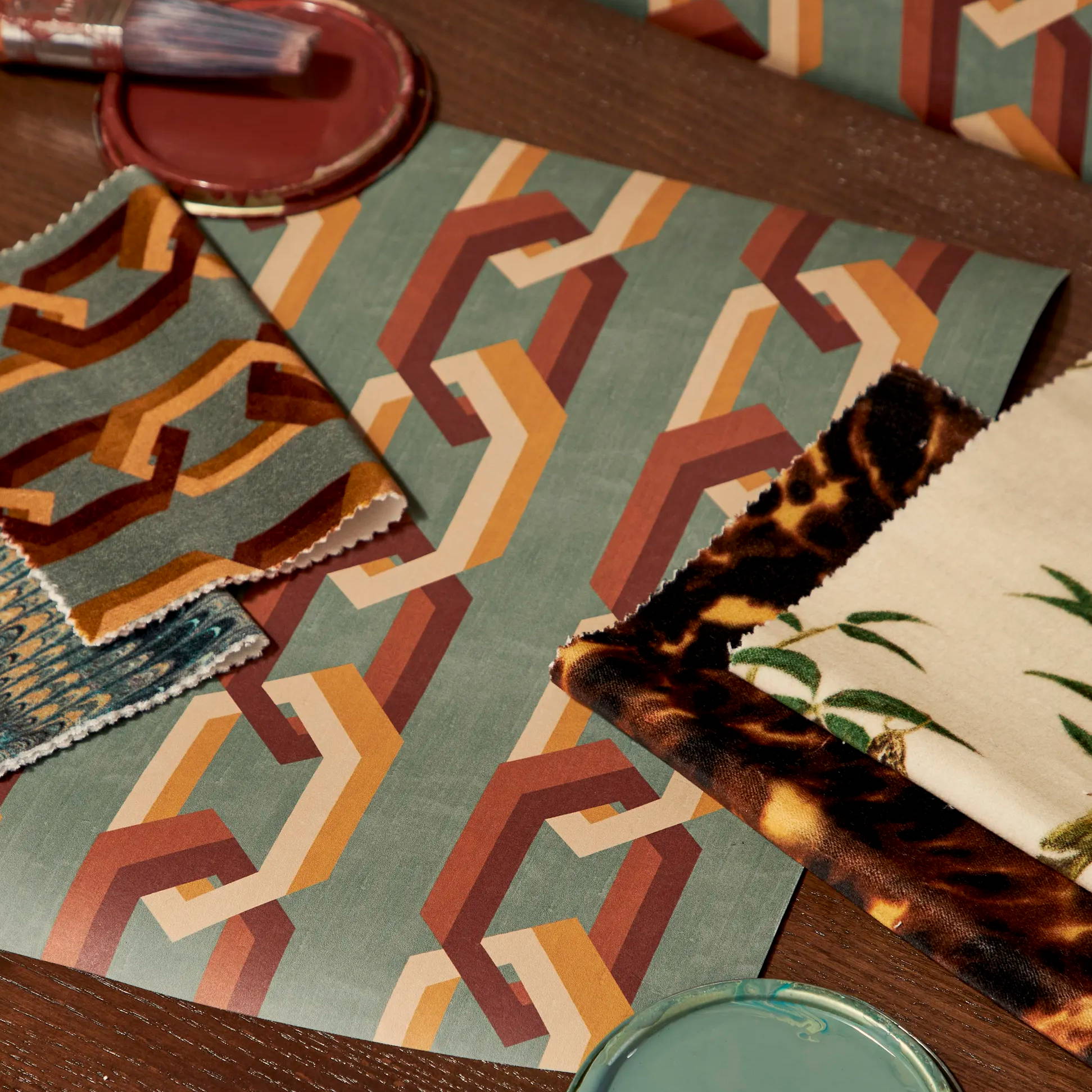 Exclusive discount with extra offers for loyal trade account holders

Express sample delivery

Bespoke design development including scale and colour adjustments

High quality fabric and wallpaper

sample box to showcase P&B

retro

designs to your clients
Poodle & Blonde trade accounts are much loved by designers, architects, upholsterers and more. To be considered for a trade account please click 'apply now' in order to complete an application form. We will then review your application and be in touch as soon as possible. Once you have been approved you will receive your unique code to make placing orders quick and easy.
---
THE SAMPLE BOX
Go the extra mile and impress clients with our brand new deluxe sample box, to house your Poodle & Blonde fabric and wallpaper samples in style.
With sustainability always in mind, our luxury box has been designed and produced in the UK. Made with a water and scruff resistanct finish and features a bamboo handle. The gold foiled logo completes the look perfectly and is sure to make a statement.
Register your interest now to be the first to receive one!
(You must have an approved trade account first)
---
Who can apply for a trade account?
Applicants applying for a trade account with Poodle and Blonde must work within the following sectors:
Interior Design

Architect

Film & TV set design

Hospitality

Other (if your line of work falls into other please apply and provide further details)
What are the benefits of having a trade account?
Trade clients can enjoy discounts starting at 20% with further discounts offered to our loyal customers or those ordering large volumes.
Other benefits include collection previews, trade events and more. Our amazing team is always working to go above and beyond to ensure our trade customers are well looked after. They will support you through sampling, ordering and bespoke requests. Ensuring your installs are as smooth as possible, and your clients are happy
Are your fabrics suitable for commercial projects?
Yes, our full fabric offering is suitable for both residential and commercial projects. In addition, we are able to provide additional treatments such as FR treatments upon request
Do you offer bespoke design colours or scale adjustments?
Yes, we are able to offer bespoke colour work or scale adjustments on existing designs. Minimums, lead times and charges apply. Contact us at trade@poodleandblonde.com for more information.
Up to how much discount can I recieve as a repeat customer?
The more you shop, the more discount you could be entitled to! Our discounts start at 20% but loyal trade clients can enjoy up to 40% discounts on thier orders.
Can my application be denied or cancelled?
Yes, trade applications are subject to review. Reasons why an application may be denied is usually down to lack of authenticity, we encourage anyone who's application was not approved to re-apply in 6 months time. Our trade accounts are reviewed quarterly, if no samples or orders have been made against your account in 12months it is possible that your account may be closed and you will need to reapply.
I have an account but cannot find my discount code